Our Windows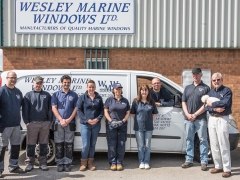 Wesley Marine Windows are manufactured in our own workshop at Newark in Notts, to category D of the Recreational Craft Directive (RCD) and are glazed with 4mm toughened glass to BS 6206. All are supplied with a Certificate of Conformity
The finishing processes of polishing, anodising or powder coating are carried out by professionals with many years experience in their chosen fields.
Wesley Marine Windows are able to offer a wide range of windows for narrowboats and Dutch barges in a selection of sizes, styles, colours and finishes.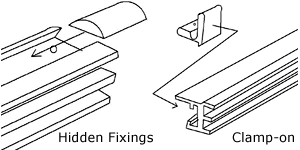 Window Options
DOUBLE GLAZED WITHOUT THERMAL BREAK
Manufactured using Super Spacer® spacer and 4mm toughened glass to BS6206A.
Frame style: Clamp in section
Super Spacer is immensely suited to the manufacture of double glazed narrow boat windows due to the "no-metal warm edge technology" introduced into the unit. Super Spacer is a no metal, pre-desiccated, structural foam spacer system. Its award winning, patented Thermal Set Spacer (TSS) technology  gives the ultimate in high performance spacer systems.
Super Spacer has 100% memory and allows for expansion and contraction, a major cause of fractures in conventional sealed units. 
DOUBLE GLAZED WINDOWS WITH THERMAL BREAK
Again manufactured using Super Spacer  Seal but with the added benefit of a thermal break within the aluminium frame which helps to prevent condensation forming.
This frame section is of a larger profile than our normal double glazed units and looks extremely stylish.
These units are currently available as a screw in hidden fixing section only.
SINGLE GLAZED
Manufactured using 4mm toughened glass to BS6206A
Wesley Marine Windows are supplied with the following fixing options:
Standard screw in type with hidden fixings located under a black or coloured insert
Easy fix clamp-in type, no external fixings and a modern low profile finish enhancing any boat with a sophisticated look
Window Sizing
An important consideration when choosing new windows, especially replacement units, is that window manufacturers all have their own unique profile and in a number of cases any radii involved may also be different.
Always check sizes before ordering and if possible, provide a template for us to work to.
Measurements we require are the aperture sizes cut into the cabin sides for the windows.
There can often be a variation in the tolerance of the frames which will be within the industry standard.
Window Styles
Wesley Marine Windows are available in both Hidden Fixing and Clamp-in in the following styles.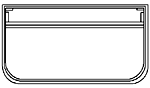 Hopper
Top hopper style windows have been the popular choice for narrowboats for many years. The hopper or top glass drops back to allow for air circulation whilst keeping the boat interior dry and airy. As with all Wesley Marine Windows they can be supplied with either radius or mitered corners.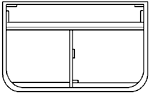 Hopper Slider
The hopper slider is identical to the standard hopper window except that the lower window, instead of ower glass, instead of being one fixed sheet, consists of two pieces of toughened glass, one of which is fixed and the other able to slide thus allowing for a greater area of ventilation, very handy over the cooking position.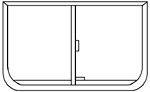 Full Slider
Wesley Marine Windows full slider does not have a top hopper but consists of two pieces of toughened glass, one fixed and one sliding of toughened glass, one fixed, one sliding.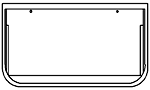 Escape Windows
Fully opening windows with removeable glass Escape windows consist of a single piece of toughened glass sitting in a frame and fastened with two catches. When the catches are released the glass sits back within the aluminium hoppers and if required, can be lifted out. Replacing broken glass is very simple.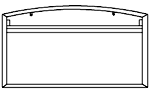 Arched Top Windows
Similar to the standard windows above they are supplied with an arched top, popular with many "Dutch" style barge builders and are available in either top hopper or top hopper slider. As with all Wesley Marine Windows they can be supplied with radius or mitred corners.
Fixed Windows
To any style and size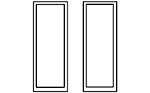 Fixed Bulkhead and Door Windows
No self respecting boat is complete without matching bulkhead and door windows. As well as adding a light and airy feel to the forward cabin, the views ahead can be glimpsed in advance allowing time to grab the camera and capture that stunning picture.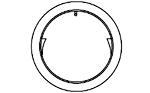 Portholes in aluminium
To compliment our window range Wesley Marine Windows are able to supply portholes manufactured in the same aluminium extrusion as our standard units, either in hidden fixing or clamp on.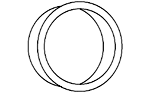 Liners and Trims
Our liners and trims are an exact fit for all Wesley windows and portholes, making them the ideal choice for finishing the interior of your boat. Manufactured in hardwood, softwood, aluminium, spun brass or fibreglass, they add that professional touch to your décor. Do, however, bear in mind that fibreglass (synthetic) liners are flexible and will therefore require some manipulation to install.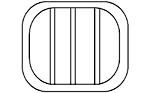 Escape Hatches
Deck hatches can be supplied in the following finishes : Anodised or powder coated aluminium, polished brass or chrome plated brass and all are supplied with bars.
Window Colour and Finish Options
Anodised
All our aluminium windows and portholes can be supplied in a variety of colours and finishes, satin gold, satin silver,  bright gold or bright silver.
The modern anodising techniques used ensure that provided the correct cleaning procedures are followed colours will remain bright for many years. Seagoing vessels use anodised escape hatches which retain their colour in a hostile environment.
Powder Coating
A popular alternative to anodising is powder coating which gives a tough, longlasting and attractive finish in a wide range of colours. In fact, almost any colour from the RAL chart can be supplied.
Fixing Materials
For the true professional Wesley Marine Windows Ltd can supply from stock the following fixing materials:
Black sealant tape 19mm x 25m roll
Arboseal mastic 18mm x 12m roll
Prestik 6000 preformed sealing strip 16mm x 2mm x 15m roll
Prestik 6000 preformed  sealing strip 18mm x 4.5mm x 9m roll
Unlike many silicone sealants, all the above can be painted over.